Its that time of year again where we start to get excited about Christmas, and after all its now December so it does not feel too alien to start to get into the festive mood. Is there a better way to do that than opening day one on an advent calendar ?
The advent calendar comes to us in so many forms and caters for kids, big kids and the biggest of kids, yes us adults… Even us adults still get a little giddy when opening the doors and wondering what delight we might retrieve.
My choice of calendar for the last 4/5 years has of course been the Boutique-y whisky calendar, the joy of opening those windows to find a mini sample of whisky brings out the kid in me and in todays way of living that can only be a good thing !
So door number one is a firm favourite of mine.. Glen Elgin, this is such an underrated distillery, well i say underrated, its actually well loved but so rarely seen other than the indie bottlers as most is soaked up by the blenders such is the quality of the whisky..
Founded in 1898 by William Simpson and James Carle this distillery is today one of Diageo's sleeping gems, nestled in speyside and producing a capacity of 2.7 million litres of alcohol per year this distillery offers up a very consistent style of whisky that is mostly matured within ex bourbon
ca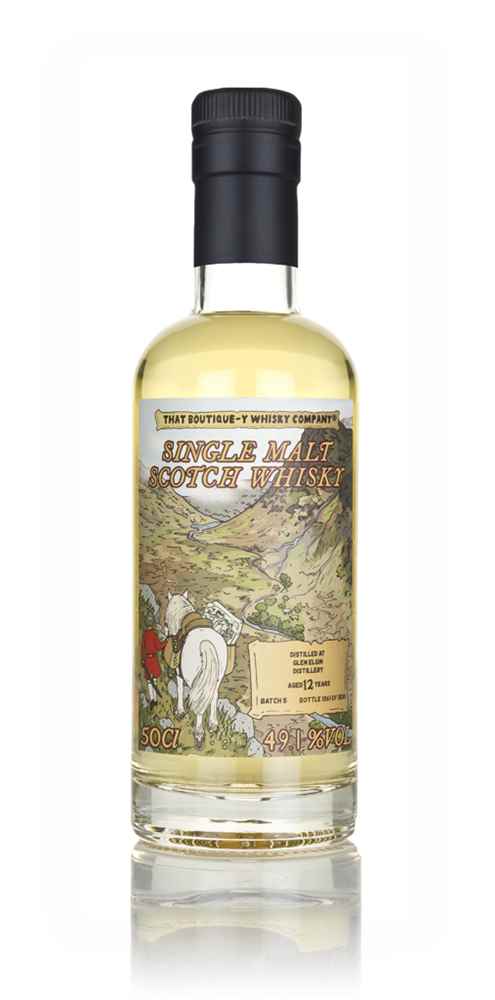 sks..
12 Year old Glen Elgin – Batch 5
Distillery.. Glen Elgin
Region.. Speyside
Age.. 12 years
Abv.. 49.1%
Cask.. ex Bourbon
Outturn.. 1830 X 50cl
RRP.. £39.95
Nose.. First you notice how light this is with delicate scents of apple, pear and pineapple delighting the senses before a more floral note drifts in carrying honey and lemon rind with it. A hint of dried grasses and digestive biscuit pops up with some milky coffee notes in the background.
Palate.. Those fruits stand out even more and with the prickle of some peppery notes this does come alive. Add some ginger, cinnamon (although this is doing its best to hide away ) and a little bitterness from the lemon rind and this whisky is very drinkable.
Finish.. Soft spices and a hint of oak
Thoughts.. This Glen Elgin is true to form and for me this has no faults when you consider what it is you wanted and then take a look at the price tag..
So often we expect far too much and then become disappointed when something does not hit the high standard we expected from it. Things need to be taken for what they are and given every opportunity to thrive and shine, sometimes they succeed, others they don't but as long as you give them the time they deserve then they generally come through.
A lovely start in the 2021 That Boutique-y Whisky Calendar…
As always with these calendar reviews don't forget to check out Matts thoughts over at https://www.thedramble.com/